Dual Piecepacks Poker
| | |
| --- | --- |
| Players | 2-20 |
| Length | variable |
| Equipment Required | 8 unique piecepack suits |
| Designer | TrevorLDavis |
| Version | 1.1 |
| Version Date | 2018-04-14 |
| License | CC-BY-SA 4.0 |
Description
Dual Piecepacks Poker is poker with some dual piecepacks twists. There are three different types of flushes, nulls and aces are both high/low, straights don't matter, and no-pairs is better than one-pair.
Rules
License
This work is licensed under a CC BY-SA 4.0 license: https://creativecommons.org/licenses/by-sa/4.0/. It is a "free culture" license.
Reviews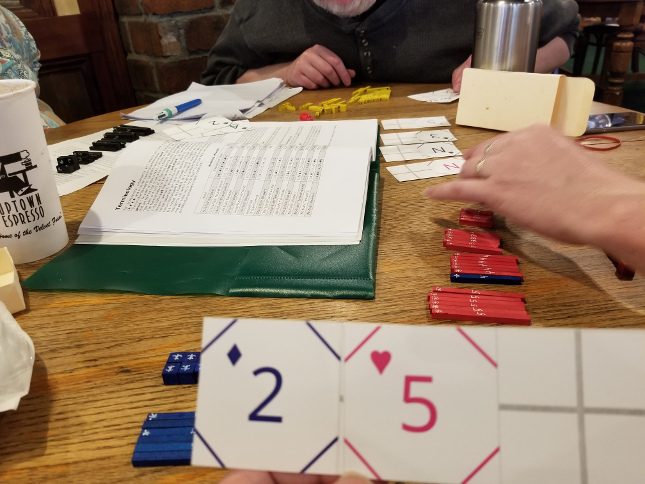 Actually, not so much a game as a way of adapting existing Poker variants like Five-Card Draw and Omaha to the Dual Piecepacks expansion. Pretty neat -- Trevor supplies a cheat sheet with lots of weird new Poker hands, what they're worth, and the odds of getting them. For example, a hand with no pairs is now better than a pair!
Unfortunately, Trevor doesn't provide complete rules for any Dual Piecepacks Poker variant, and piecing one together on the fly from his scattered instructions is somewhat tricky. It would also have been nice if he had warned people that every player should have a copy of the cheat sheet for DPPP hands. When we were out playtesting at a coffee house, we didn't have access to a printer, so we only had one cheat sheet to pass around, making the game almost unplayable for us. In any case, the new Poker hands, while fun and mindbending, are frankly kind of cumbersome. They're an interesting mathematical idea, but in practice are frustratingly complicated for poker novices and frustratingly different from normal poker hands for experienced players.
Nevertheless, with a bit more work on the designer's part, Dual Piecepacks Poker might fit well into a night of novelty poker games such as Low Flying Outhouse, Double Jesus, or Follow the Mopsqueezer. You can even try Dual Piecepacks Follow the Mopsqueezer if you're aiming for a cerebral hemorrhage.
Note: It's interesting to me that of Trevor's contest items (I won't say "entries" because I entered piecepackr into the contest myself as a surprise), his more general items are more successful. I'd say piecepackr (most general) is more successful than Dual Piecepacks (more specific), which is more successful than Dual Piecepacks Poker (most specific). Trevor is obviously a thinky guy with an eye on the big picture.
--RonHaleEvans, Where No One Has Gamed Before, October 2018
---
CategoryGame MechanicBettingCategory MechanicShuffleAndDealCategory