Dungeon Crawl
| | |
| --- | --- |
| Players | 2-4 |
| Length | 45 mins |
| Equipment Required | One standard piecepack |
| Designer | James Kyle and PaulShope |
| Version | 0.2b, 23 May 2001 |
| Version Date | 2001-05-23 |
| Licence | Re-licensed CC0 Public Domain Dedication |
Description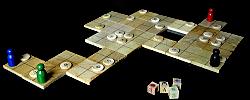 Photo courtesy Brett & Board
One of the first games available for the piecepack.
After building the dungeon, players move their characters (pawns) around the dungeon seeking treasure (crown coins). Monstrous denizens (moon coins) and deadly traps (sun coins) pose hazards which may cause damage (value-up coins in players' holdings), but defeating these challenges earns experience useful for later encounters (suit-up coins in players' holdings). Players may also attack each other in an attempt to steal treasure or equipment (arms coins). Once the final treasure has been found, the game ends,and the player with the highest total value in treasure wins.
Rules
https://web.archive.org/web/2016/http://www.piecepack.org/rules/DungeonCrawl.pdf
Reviews & Comments
One of the OriginalSevenGames.
Links
BGG page: http://www.boardgamegeek.com/game/35894
---
CategoryGame ThemeFantasyCategory