Matches
| | |
| --- | --- |
| Players | 2, 3, 4, or 6 |
| Length | 15 minutes |
| Equipment Required | one standard piecepack |
| Designer | James Kyle |
| Version | 1.01 for the piecepack |
| Version Date | 2001-00 (unknown month) |
| Licence | Copyright 2000, 2001 by James Kyle, Re-licensed CC0 Public Domain Dedication |
Description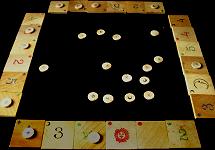 Photo courtesy Brett & Board
One of the first seven games available for the piecepack.
Matches is an easy game that will exercise your memory and deduction, as well as press your luck. It is enjoyable for children and adults, and also plays well with mixed groups of both.
Rules
https://web.archive.org/web/2016/http://www.piecepack.org/rules/Matches.pdf
Reviews & Comments
One of the OriginalSevenGames.
Links
BGG page: http://www.boardgamegeek.com/game/35887
---
CategoryGame MechanicMemoryCategory GamesForChildrenCategory