| | |
| --- | --- |
| Players | 3-4 |
| Length | 30 minutes |
| Equipment Required | one standard piecepack |
| Designer | James Kyle and PaulShope |
| Version | 0.2b |
| Version Date | 2001-05-29 |
| Licence | Copyright 2001 James Kyle and Paul Shope, Re-licensed CC0 Public Domain Dedication |
Description
One of the first games available for the piecepack. Pronounced "motocross", this is, as you might expect, a game of racing motorbikes. Uses an unusual three-dimensional race track with "jump ramps" created by piling coins under tiles in the track.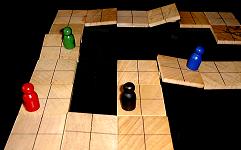 Rules
https://web.archive.org/web/2016/http://www.piecepack.org/rules/MotoX.pdf
Reviews & Comments
One of the RecommendedGames. (./) (./) (./) One of the OriginalSevenGames.
Links
BGG page: http://www.boardgamegeek.com/game/35886
Image Credits
Moto Cross Racing, Bairnsdale by Fir0002/Flagstaffotos / CC BY-NC 3.0, via Wikimedia Commons (selected by RonHaleEvans)
Board photo courtesy Brett & Board
---