Piecepack Art
This page is for art related to the piecepack. Other piecepack art pages:
Ceramic piecepack tiles
Here are some tiles that TheEradicator, MeredithHale? made as a Christmas present for the PortAuthority?, RonHaleEvans in 2006. They are hand-painted square ceramic tiles, four inches on a side and about a quarter-inch thick.
Face-up
This ceramic tile shows four piecepack tiles in play, face up. The piecepack tiles are two inches square, actual size for MesomorphGames piecepacks.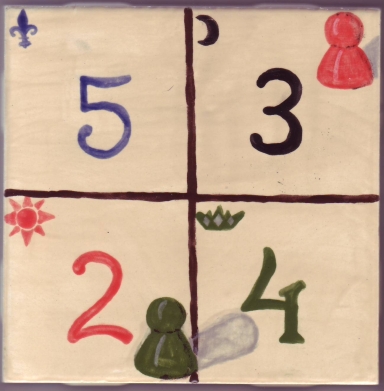 Face-down
four piecepack tiles in play, face down.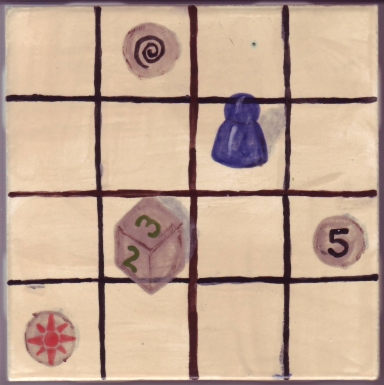 Arms tile
This ceramic tile depicts a single Ace of Arms. It is four times actual size.
The Icehouse folks have giant Icehouse sets for conventions. Why not a giant piecepack?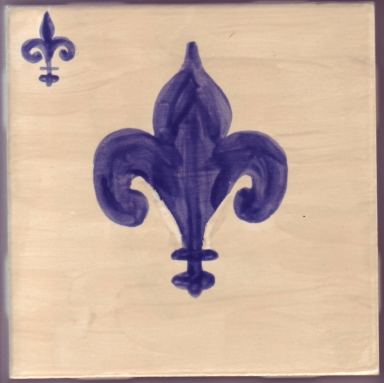 Logo
This ceramic tile shows the piecepack logo. It was modeled after the MesomorphGames version.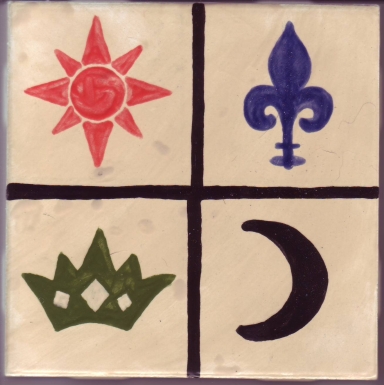 What to do, what to do?
Anyone have any creative uses for these tiles, or ideas about how to display them? I like them much too much just to use them as coasters, even though that's what they're meant to be.
-- RonHale-Evans [[DateTime?(2007-01-10T06:45:22Z)]]
If you're still looking for ideas I have one. You could use them as feature tiles in an area otherwise covered in plain tiles, like this
Piecepack for Poser or DAZ Studio
If you're a 3D digital artist, you can illustrate your piecepack rulesets with these simple props. Or you could create a scene of people playing a piecepack game!
http://vipondweb.byethost3.com/gameroom/PoserPiecepack.html
-- JamesVipond?
Andrea Longhi's Advent Calendar Illustration video
Andrea Longhi shared on Facebook a making-of video of the piecepack illustration he made for the PiecepackAdventCalendar